Over 200 Exhibitors on display in Trade Village
Visit over 200 manufacturers and suppliers in our Trade Village, where the latest innovative products and technologies are displayed. Simply scan the companies you want to hear from during your visit to find out how they can help you with your project.
Technical Expert at our Helpdesk*
Our team of independent experts are on hand to offer FREE advice and support on every aspect of your project.  Share their experiences and enthusiasm on every aspect of building; from water usage and heating systems to insulation, building methods and the latest legislation. Get all the answers to your trickiest questions, talk through your ideas and get expert opinions on your plans! Speak to our Experts and realise the key to creating your dream home!
*Our Helpdesk is staffed from Wednesday - Sunday 10:00am - 17:00pm.
Audio Tours
We have recorded brand new audio tours so that you can enjoy a personal tour of our educational zones using your own smartphone or device. The tours cover both our New Build Zone and the Renovation House and each tour lasts approx. 45 minutes.
Helpful tip: Please remember to bring your own headphones!
New Build Tour:
Renovation House Tour:
Financial Planning
For most people getting their finances in order is an important starting point for their project.  Here at the NSBRC, founding partner, BuildStore have the mortgage for you! Whether you are building your own house, renovating or simply looking for a better rate on your existing house while you plan your project, we're here to help.
Land Finding
PlotSearch, the UK's premier land and property resource are on hand to help you find your ideal plot, renovation or location.
New Build Educational Journey
See our six life-sized exhibits that cover all the major stages of a building project. Learn everything you need to know about building your own property including: Groundworks, Foundations & Floors, Walls & Structures, External Options, Roofing and much much more...
Renovation House
The Renovation House is typical of a property built in the inter-war years and has clearly had very little maintenance carried out. If you are contemplating buying a dilapidated property, then our renovation tour will provide you with all the considerations you must take on board. Our audio tour will take you through the key stages of a renovation project, taking you from dilapidation to completion.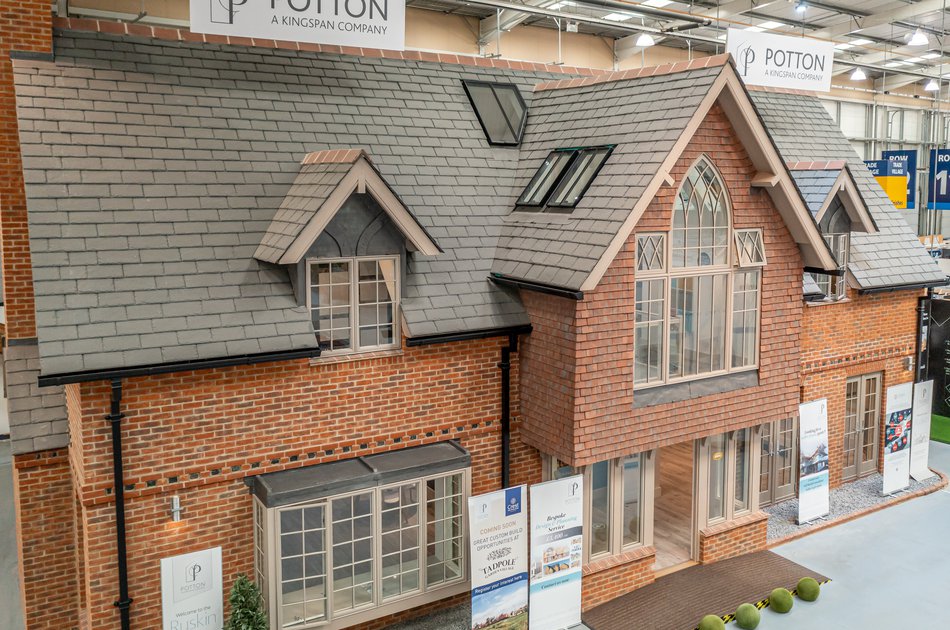 Ruskin Show House by Potton
Potton's full size 'Ruskin' house is an inspiration for all self builders. The exhibition space inside this property will explain how Potton can help you achieve your dream home, from finding land to design, planning and finishing your build. The Ruskin will inform and inspire in equal measures.
Coffee House
We have an on-site Coffee shop serving hot and cold drinks and limited snacks.
The Coffee House is open from 10:00am – 15:00pm Tuesday to Sunday. Both card and cash are accepted.
School and University Visits
We welcome all Higher Education Establishments and Groups to use the Centre, by prior agreement, as the life-sized exhibits and cutaways have proven an extremely useful and informative tool to enhance classroom learning.We can offer guided tours of the Self Build Educational Journey or Renovation House for a small fee £5 + VAT per student.

Minimum student/teacher ratios do apply and are set by age group.
For more information or to make a booking please contact our Conference Team on 01793 847400 (Option 4) or email conferencing@nsbrc.co.uk
Expert Services
As you go through your self build or renovation project, you may have questions or issues that need to be resolved. Magazines and books can be overwhelming or you simply may not have the time to go searching for the answers you need.

The National Self Build & Renovation Centre has solved this problem! Whether you are investigating a new building material, checking a quote sounds reasonable or simply want a friendly ear to listen to your problem, our experts can help. 

Come along to the National Self Build & Renovation Centre and one of our Technical Experts will be happy to assist you with your questions and queries, available Wednesday to Sunday, 10am – 5.00pm and best of all, it's FREE! 
Colin Latimer
Construction Consultant
---
Colin Latimer is a Construction Consultant who is able to work out budgets for all construction works having spent considerable time estimating all types of works. In the past, Colin has had experience as a project manager and can talk about this role in the construction of all projects - from new housing to renovations. On the helpdesk at the Centre, he is able to talk through your ideas pre-construction, discuss construction methods, and if need be, write and advise on specifications. Colin can also appraise programme of works (duration of works) and discuss options to help you find the right construction company for various projects and building contracts.
David Hilton
Project Management and Heat & Energy
---
David is an authority in sustainable building and energy efficiency with extensive knowledge in building fabrics, heating systems, heat recovery ventilation, renewables and conventional heating systems. David has a Masters degree in Sustainable Architecture, is a fully qualified renewables, Gassafe installer, trainer and has 30 years experience in the industry.
Neil Davey
Architectural Design
---
Neil has an engineering background with several years' experience in Construction, including design, manufacture, project management and installation of Architectural metal work. In later years he had 17 years' experience running his own Architectural design business designing extensions and new build houses and as a self-builder he has also designed and built three houses for his own use. Although Neil is officially retired, after 14 years of working on the NSBRC Help Desk, he is currently still offering his advice on a part time basis – and can often be found representing the NSBRC at external events, accompanied by his wife, Sue.
Mike Hardwick
Project Management Specialist
---
Mike Hardwick is a Project Management Specialist and Self-build Consultant. Mike is currently the General Manager at the National Custom & Self Build Association and also frequently features as a helpdesk expert at the National Self Build & Renovation Centre. He has also completed his own self build project, creating his family home back in 2002.
Rob Bohm
Independent Heating and Energy Consultant
---
Rob heads up the energy and heating consultancy team at CLPM and is an experienced plumbing and heating engineer with expertise in renewable technologies. Rob joined CLPM in 2014 as a building project manager and over the years he has worked on all kinds of projects from residential building projects to commercial premises. However, the number of clients who need heating and energy advice has grown significantly and so Rob now spends all of his time carrying out heating or energy surveys, writing client reports and delivering sustainability advice. In his spare time Rob enjoys spending time with his family, DIY and tinkering with his classic car.