The NSBRC Guide to Managing Money will give you the foundations for a successful, worry-free project allowing you to focus on the key decisions and enjoy the excitement of creating your new home.  Ideal for anyone taking on a self build, renovation or large scale refurb for the first time, our new virtual course is delivered by an experienced presenter with a background in designing and building homes.
From how to raise finance to budgeting, negotiating on prices to re-claiming VAT, this course will ensure you avoid costly mistakes and maximise what you can achieve with the money you have available.
Our Guide to Managing Money course is delivered by Independent Project Manager, Mark Stevenson.
Having worked as a builder and construction professional for almost 30 years, Mark Stevenson uses his experience to help self-builders build their own homes.
Whilst Mark describes himself as a 'professional builder' as a result of his career in house building and timber systems manufacturing, he has specialist knowledge of timber construction and extensive expertise in finding land and appraising building plots.
What will the course cover?
Picking the right team
Financial experts, who are they and when should I use them?
Financial roles and responsibilities on a building project
Raising finance

Mortgages
Qualification criteria and how to look attractive
What brokers do and why you might want one

Choosing and appointing suppliers and contractors

How to put an enquiry together
Comparing quotations and how to work out which is best
Fixed price or day rate, which is better and why

Dealing with financial disputes and claims

How to avoid them
How to resolve problems
When to pay and when not to pay, that is the question
Budgeting
Putting together a build budget

What construction costs
How to work out a build budget
Defining the scope of work and specifications and why these are important

Site overhead costs

What are they and what should be allowed
How to run a site on a budget
Essential equipment that saves you money

Contingencies

Contingency and abnormal allowances; what are they
what should be allowed
How to manage them
Professional fees and what you get for your money
Design & Professional fees

How much should you pay - What should you get
Professional fee pitfalls
How to manage designers to avoid extra costs

Routes to build

What are the options and how do their costs compare
The cost of DIY
The cost of convenience
Making the most of your money
Investing money to save money – the importance of life cycle costs
How to make sure you don't run out of money

Hone your project management skills
The importance of design
Money saving ideas (checklist)

How to buy for less money

Lowest cost or best value – what's most important
The art of buying well
Where to look to pay less

Managing VAT

Understanding the rules; new build, conversions and refurbishments
How to avoid paying VAT to improve cash flow
How to reclaim VAT

Financial tools (Excel based)

Budgeting tool
Cost tracking tool
Cash flow tool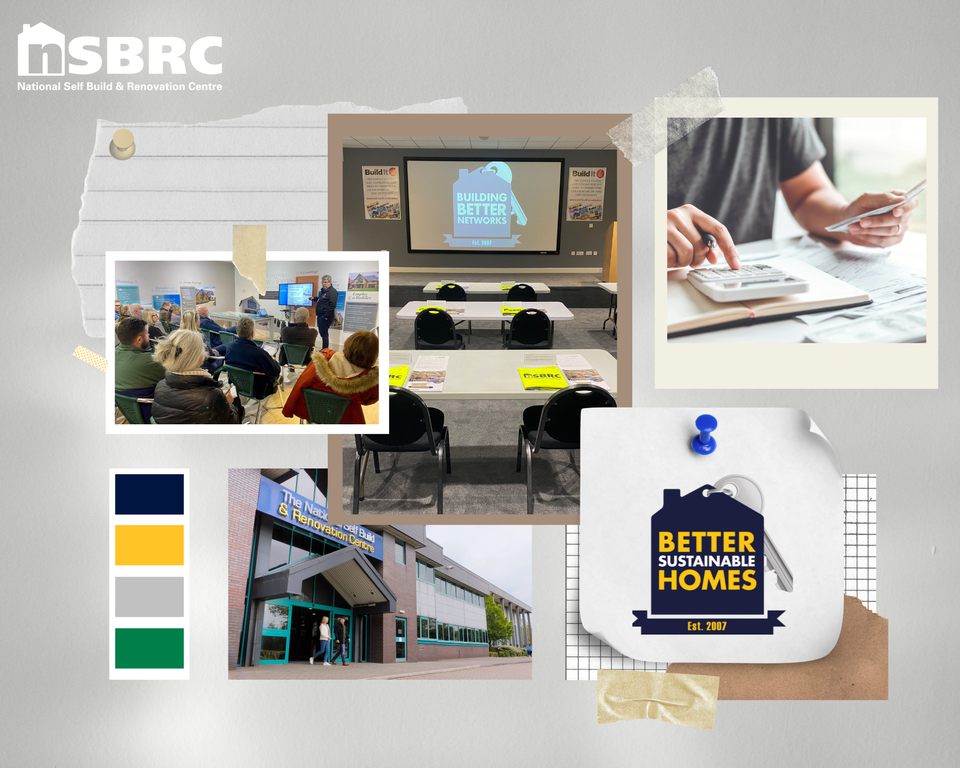 Refund Policy - The NSBRC Guide to Managing Money
Cost of one-day courses held at the Centre per person: £165.00 gbp (VAT inclusive).
Cost of one-day virtual courses per device: £85.00 gbp (VAT inclusive).
If you are unable to attend the course after booking, we can transfer your place to another course date if you notify us at least a week before the event (subject to availability). Please notify us as soon as possible. Please note that we will issue a full refund if you notify us up to 7 days prior to the event start date, if you notify us after this time your payment will be non-refundable.