Below we'll cover off the typical steps involved in the journey towards self building a home, and offer our expert tips and guidance for each step of the way.
Research
The first stage in your self build journey should always be thorough research. You'll need to make sure you understand what's involved in a self build project, and if it's something that is realistically feasible for you.
With a clearer understanding of the self build process, you can then start thinking about budgets and what type of home you'd like to build. Your budget will play a huge role in what and where you can build, so it's important to make sure your expectations match up. Find out about establishing your budget by clicking here. You may also want to think about how hands-on you'd like to be during the project. Could you do some of the work yourself to help cut costs? Or would you prefer it to be fully taken care of for you?
At this stage you should also spend some time thinking about why you want to self build, and what the most important aspects of the project are for you. Is your priority a plot with beautiful views? A home tailored to your family? A home built with natural materials? Reducing future energy consumption? Maybe you don't mind where your plot is as long as you can build your perfect home, or perhaps you're happy to build a smaller home and focus on a high standard of finishing. These are all key things to consider, and will help you figure out what the must-haves are for your new home, and what isn't quite so important.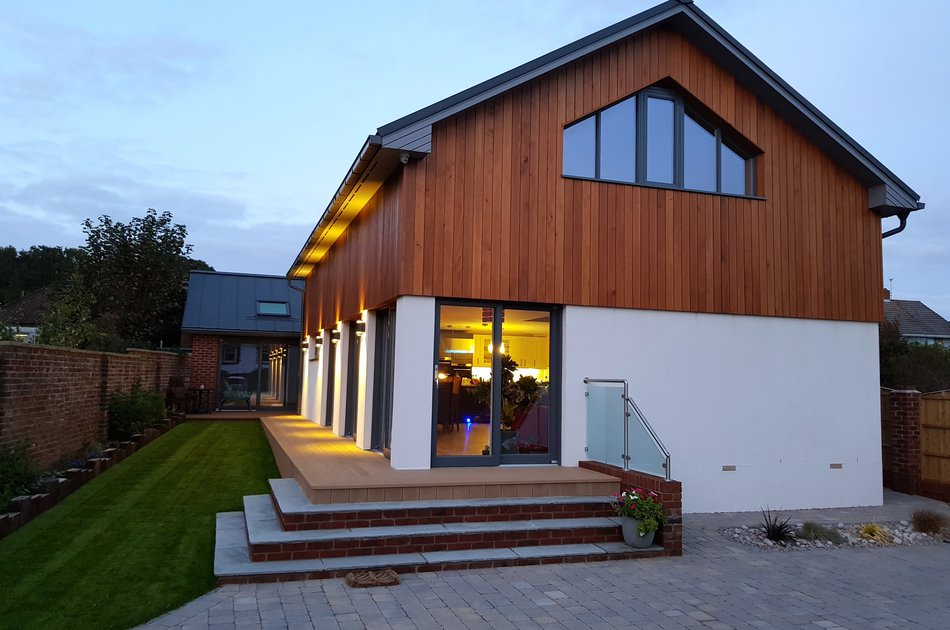 Not sure where to start? Try taking a look at some case studies to help you see what's possible for your budget, gather inspiration and learn from self builders who have completed similar projects.
Financing
With your ideas set out and an estimated budget in place, it's time to look into how to finance your project. This will give you a more precise idea of the available budget for your build, and whether it's achievable for you.
Most self builders will need to look into financing options for their project. Self and custom build mortgages are a popular choice and are tailored to the specific needs of a self build project. The money from this type of mortgage is released in agreed stages throughout the project. This allows you to purchase materials and pay contractors as the project progresses, so you don't need to worry about covering any costs upfront. Other options for financing include using your own savings, and remortgaging or selling your existing home to fund the build.
The Government is keen to encourage the growing appetite for self building in the UK. There are now a number of different schemes that can provide support and help to boost your budget, including the new Help to Build scheme.
Our Guide to Managing Money course covers all of the schemes available, as well as looking at how to raise finance and budget successfully.
Your home building project is likely to be one of the largest single spends in your lifetime.  Looking after your finances, in a controlled and planned manner, will help keep you on track and on budget.  Losing control of your cash can lead to stressful delays, unexpected costs and potentially an unfinished build with no money left.
Finding land
Finding land can often be one of the biggest challenges for self builders to overcome. With an increasing demand for new homes, and the rise in popularity of self building, land has become both more expensive and harder to find. Finding that perfect plot can sometimes take years, and you'll need to put in a lot of time and effort to secure a good one.
The internet is a great place to begin your plot search, but you might also want to consider auctions, estate agents or even asking around in the local community where you want to eventually live. Getting out there will help you jump ahead of the competition, and ensure you're one of the first to hear about new plots as they become available.
The plot you choose will be the foundation for your new home, so it needs to be right. However, the more specific your requirements are, the longer you're likely to be searching. So it makes sense to be flexible where you can, and be willing to revise your requirements if your search isn't going well. Plots that may initially seem unsuitable can have heaps of hidden potential if you know what to look for, so don't rule anything out too quickly. Equally, it is important that you never pay for a piece of land until you are certain it will attract planning permission – otherwise you may end up as the owner of an expensive paddock!
Find out more in our Finding Land Guide.
If you're still struggling to find your perfect plot, our Guide to Finding Land and Appraising a Plot course has tonnes of tips and tricks from the experts to help you in your search.
Top tip: Everyone who is considering self building should join the Right to Build Register.
Local Authorities are now required to keep a register of people and groups who want to self build locally, and they must ensure they have sufficient plots available to meet this demand.
Planning Permission
After securing a plot, you'll need to apply for planning permission for your new home.
It's a good idea to get a general understanding of the planning process and what's needed at this initial stage. This will help you know what to expect, and give you a clear idea of how to prepare before you submit your application. Planning applications can take many months to complete from first submission to the final decision, so you'll want to do what you can to get it right the first time.
Depending on the area you've chosen to build in, and your designs, you may find you can't get planning permission to build exactly what you want. It's a good idea to speak to the Local Planning Authority before you get too far into the design process, so that you know all about any existing policies and restrictions beforehand. You'll also need to be prepared to revise your designs if there are any conflicts.
Employing a reputable architect or building designer to draw up your plans is a good way to help ensure your application isn't held up or rejected for technical reasons.
At the NSBRC we run regular free personal consultations with RIBA certified architects, where you can get expert advice on self building your own home.
These sessions are ideal if you have questions about the planning and design process.
Find out more and book your appointment here.
---
Top tip: We have independent planning experts on hand, offering free 1:2:1 consultations and expert seminars, at our next National Self Build & Renovation Show. Book your free tickets now.
Design and specification
During this stage it will start to feel like your plans are really coming together, and you'll have a good idea of what your finished home will look like. However, there are still a huge range of options to consider and decisions to make.
You'll need to decide on what building system route you're going to take, how you'll deal with project management, and if there are any eco considerations for your project. You'll also want to start researching well-recommended contractors and tradespeople to carry out the work, and think about the big interior items such as your kitchen and bathrooms.
With all of these considerations still to be made, it can be hard to stick to your original budget once you begin planning things in and costs start adding up. The best way to keep on top of it all is to draw up a comprehensive budget breakdown before you make any key decisions. List everything you can, even the small stuff, and try to be as accurate as possible. Knowing where you can save money or pitch in to help, and which items are worth spending out on is also helpful.
Our Building Systems Workshop is a free event that covers the pros and cons of each method of building, and offers expert tips and advice to help you decide which building system is right for your project.
---
For an in-depth overview of the full self build process, including designing your home, project management, and how to find the best tradespeople, our 3 day NSBRC Guide to Self Build Projects covers it all.
Building control
In order to meet building regulations your site will need to be inspected by an approved building inspector at regular stages throughout the build.
You'll need to decide on whether to use an independent company, or go through your local council (Local Authority Building Control (LABC)), and get this booked in. There are pros and cons to each option, so it's worth doing your research before deciding.
Key points in the build to sign off will include excavations for the foundations, oversite, damp proofing, water drainage installation and second fix, amongst others. Having an understanding of building standards and regulations can be really useful here, and can help to make the sign off process go as smoothly as possible. Our one day Project Management course covers theses stages in much more detail.
Once your building is complete, a final inspection will take place and a Completion Certificate will be issued. This is a very important document, and it will be required by your lender in order to release the final funds, and by solicitors should you ever wish to sell. Providers such as BuildStore can offer advice on any specific warranties required.
Find out more about our popular one-day Guide to Project Management here.
This course is essential for anyone considering their first self build, home improvement, loft conversion or renovation project. Covering everything from budgeting, insurance and site management through to health & safety, snagging and VAT reclaim.
We're with you every step of the way!
Costs
With your final designs drawn up and the big decisions made, it's time to run through the costs and make sure everything adds up.
It's a good idea to plot a timeline for the build and payment schedules at this point, so you can quickly see each stage and when you'll need cash available.
If you find that you're over budget, this will give you a clear view of which areas are more costly than expected, and where you may be able to cut back.
Your home building project is likely to be one of the largest single spends in your lifetime. Looking after your finances, in a controlled and planned manner, will help keep you on track and on budget. Losing control of your cash can lead to stressful delays, unexpected costs and potentially an unfinished build with no money left.
The NSBRC Guide to Managing Money will give you the foundations for a successful, worry-free project allowing you to focus on the key decisions and enjoy the excitement of creating your new home. Ideal for anyone taking on a self build, renovation or large scale refurb for the first time, our new virtual course is delivered by an experienced presenter with a background in designing and building homes.
Begin building
The final, and most exciting stage - start building! If you've thoroughly planned out your timelines and budget, you should have done everything needed to make this stage go as smoothly as possible.
Even the best laid plans can hit bumps in the road. So, make sure you have plans in place for the unexpected, such as timescales shifting, disputes, cash flow issues or the possibility of bad weather. You should also think carefully about where you plan to live during the build, and what you will do if your project takes longer to complete than expected.
You can visit the NSBRC at any stage during your project to get free and independent advice from our experts.
Our team has decades of building knowledge and can offer support and guidance on every aspect of your project, from research right through to building. So there's no need to worry if you come across an issue on your journey. Drop into the centre and speak to our Help Desk where our friendly experts will be happy to help answer your questions both big and small.